Dual-beam CO2 -sensing technology

Fail-safe wiring protection

24-hour occupancy-capable: No correction algorithm needed

Mounts in single-gang outlet box

Switch-selectable output mode: 0-5V, 0-10V, or 4-20mA with easy slider switch

Case color: White or Black

Output: 2,000 or 5,000 ppm
The ULP is the sleek new member of the AirSense HVAC CO2 sensor family. Rising only about a quarter inch from the wall, it discreetly blends-into any architectural motif. But don't be fooled by its slim profile: inside is a powerhouse of modern sensor technology. The compact dual-beam detection system ensures accurate operation without the need for a "self calibration" algorithm and its attendant operational limitations. The ULP can be used with any building occupancy profile! The ULP mounts conveniently in a standard single-gang junction box.
The labeled and pluggable connector makes wiring quick and easy. All screw terminal connections can be made beforehand. And thanks to built-in circuit protection, the ULP will not be damaged even if it is miswired during installation. Just set the slider switch to select the desired output (0-5V, 0-10V, or 4-20mA) and plug-in the connector. There are no jumpers to lose or complicated documentation to decipher. LEDs are provided to indicate CO2 concentration levels (sometimes required for LEED certification), but they can be disabled to make the ULP even more discreet when necessary.
Ultra Low Profile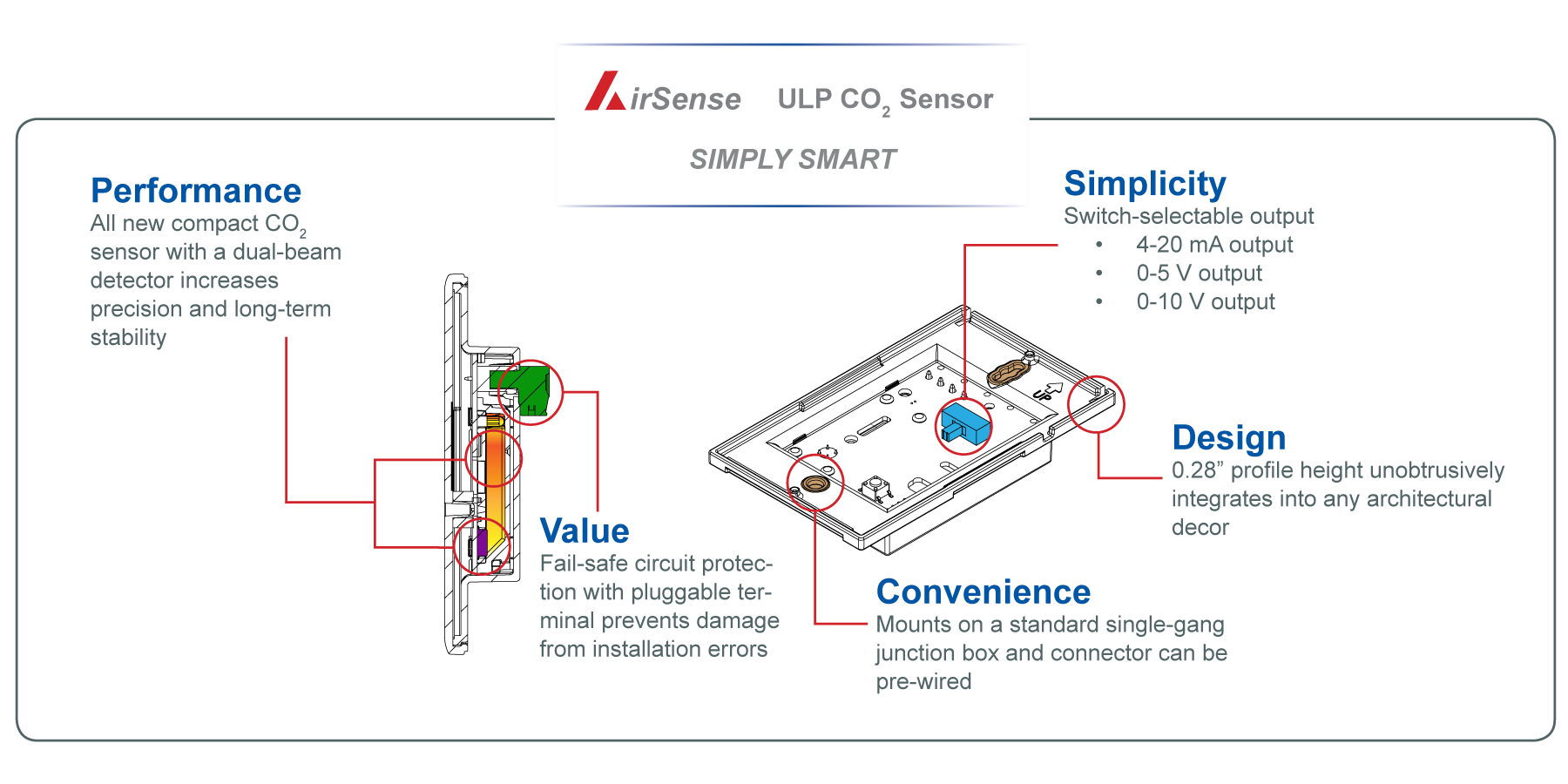 Get more for less! The AirSense ULP is our high value and user-friendly CO2 sensor designed for HVAC applications. Made in America All AirSense products always have been, and always will be designed and manufactured in America!
Parameter

Value

Operating Principle
Dual-beam Non-dispersive infrared
Gas Sampling Method
Diffusion
Measurement Range
2,000 ppm or 5,000 ppm
Repeatability
± 20 ppm CO2
Measurement Accuracy
± 30 ppm ± 2% of reading
Recommended Calibration Interval
5 years
Response time
Less than 1 minute
Power Requirements
18 - 30 VDC or 18 - 28 VRMS AC
Operating Temperature Range
10 - 50° Celsius
Operating Humidity Range
0 - 95% RH, non-condensing
Analog Output (linear), field-selectable with slider switch
0 – 5 Volts DC, 0 – 10 Volts DC, or 4-20 mA (RL > 500 Ohms)
Calibration
Single gas: 2,000 ppm (kits available)
Dimensions
4.58H x 2.84W" and 0.28" above wall surface when mounted in junction box
Enclosure Material
UV-stabilized and UL 94V-0 fire-resistant ABS plastic
Warranty
7 years on electronic components,
3 years on NDIR sensor