Corporate Responsibilities
Digital Control Systems, Inc. (DCS) has been actively laboring to conserve our natural resources for years because we understand the importance of being a good steward of the earth's resources. We are genuinely committed as a company to preserving our natural resources. Conservation is not only constructive for our environment, but it also makes excellent business sense. Locally, DCS is working with the Multnomah Village Business Association to recycle packaging materials.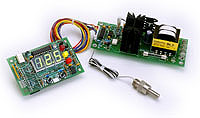 Custom Products
For complex or very specialized projects and applications, Digital Control Systems (DCS) will cost-effectively design and manufacture a fully-customized module to your exact specifications. DCS can provide state-of-the-art control and instrumentation solutions that add value to your product without consuming your engineering resources.
Our products are designed to comply with domestic and overseas regulatory requirements. DCS modules are embedded inside thousands of products that comply with UL, CSA, CE, TÜV and other agency requirements worldwide.